Hot naked football referee Fraser Jacs jacks off in the locker room
Picture this Studios says: Horny hottie 22 year old Fraser Jacs is back for a second time, last time he was all greased up after a bit of car trouble, ending up naked jerking his fat cock on the hood of his car. This time he has just finished his Sunday League soccer game.
He's not a player as such but a referee. In the locker room Fraser, all hot and sweaty after a hard won match he strips slowly out of his kit. He has a lazy looking dick which is extremely thick even when not erect, although that is about to change. Having just spent 90 minutes in the company of 24 hot rampant football players (all straight I am afraid) Fraser is keen to let off some steam himself.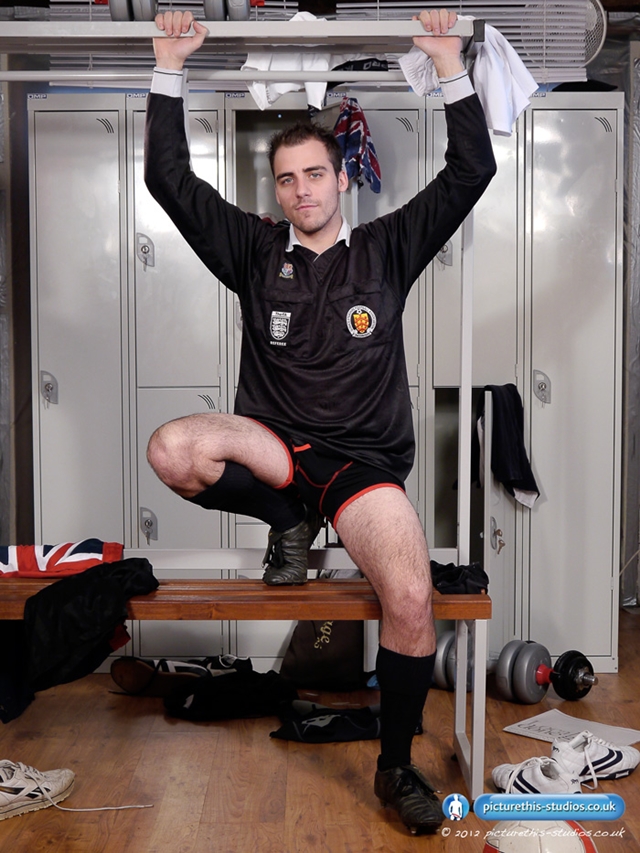 Taking his thick 7.5 inch uncut cock out of his shorts he begins to work it furiously. He's a man who doesn't like too much of a slow build up, but is keen to get to that point where the blood is pumping. Hairy chested hunk Fraser rubs his furry stomach as he wanks his erect cock ever more intently, savoring the feeling that is growing inside.
His mind goes back to the soccer pitch, he could sure show a couple of those straight soccer dudes a thing or too about ball play. He squeezes tightly to his dick head, a large pink mushroom head increasing the sensation as he jerks. His pubes are lightly trimmed, no big outlandish bush here.
His balls bounce along nicely in time with his rhythm. Then his expression on his face changes, as does his breathing and without much warning he spurts out a whole stream of cum, in three or four cumshots. Another match another day, Fraser Jacs will be back!