SD Boy says: Seth (white) and Christopher (black) kiss, caress and fondle on the couch (fast forward) Seth mounts Christopher and settles on top of his nice cock.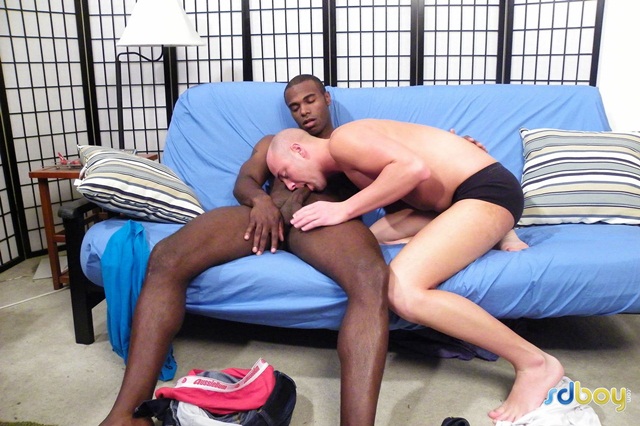 After a bit of "giddy up," Christopher takes over and pumps from underneath with Seth moaning, "fuck me." Christopher tells Seth to, "ride that dick."
Christopher then has Seth up on his knees as he takes him from behind, "yeah, spread those legs" Christopher demands.
The two go at a harder, faster pace now; Christopher's gorgeous ass undulates as he takes Seth, deeper. With Seth panting and moaning from the penetration, they go side by side and Christopher definitely has enough meat to reach.
Seth seems to love this position as he now tugs at himself. Christopher pulls out and puts Seth in a missionary fashion in order to reach every inch of his hole.
Seth continues to moan, "oh yeah" as he pulls at himself. The pair then sits side by side to masturbate. Christopher is the first to unload with nice dollops of jizz oozing out.
Seth is next as he spreads his legs and thrusts, cum splashes up on his stomach and groin. When I ask them, 'when's the next time you're hooking up?' Seth answers, "tomorrow."